GMHIDC GOES TO WORK IN VIETNAM
GMHIDC GOES TO WORK IN VIETNAM
AUGUST 2005

GMHIDC announced today that it has signed a joint venture agreement with Chu Lai United Holdings a Vietnamese corporation to participate in the design, construction and operation of 5 textile-manufacturing plants in the newly formed Chu Lai Open Economic Zone (OEZ) in Quang Nam Province, Vietnam. The agreement gives GMHIDC a 70% stake in the new venture and also names GMHIDC as the general partner. The Governor of Quang Nam province Mr. Nguyen Xuan Phuc awarded GMHIDC 30 hectors of prime land for the development of the project along with the business license. This 30 hectors which is roughly 60 acres has already been improved to the point of having paved streets, electrical power, water and sewer service provided by Quang Nam province.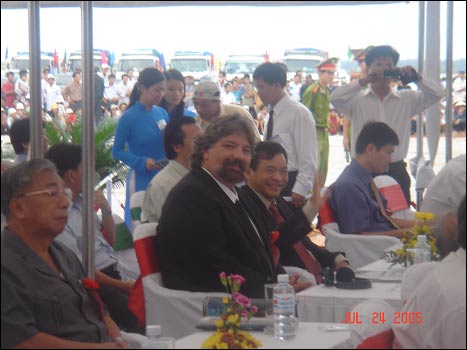 Here Mr. Hilder and his Vietnamese partner Sencam Bach wait for the Chu Lai 2nd anniversary celebration to begin. The ceremony was held at the future site of the Chu Lai seaport and warehouse district.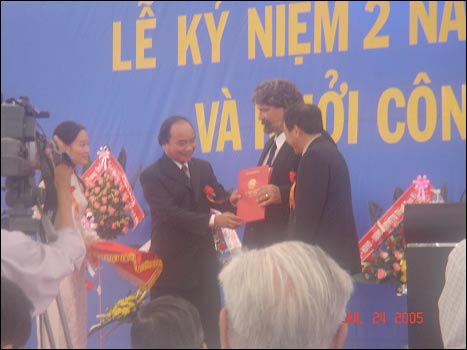 Here GMHIDC Chairman and CEO Guy Hilder receive the first license to operate a business in the OEZ issued during this years 2nd anniversary celebration of the founding of the Chu Lai OEZ. The Governor of Quang Nam province Mr. Nguyen Xuan Phuc presents the business licenses to Mr. Hilder with warm greetings and best wishes for success.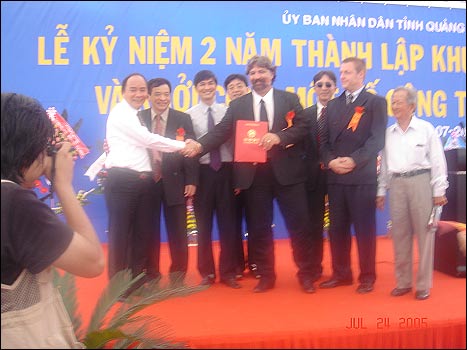 Here from left to right are the Governor Nguyen Xuan Phuc, Mr. Sencam Bach, Vise Governor Nguyen Ngoc Quang, Mr. Stanley Hung, Mr. Guy Hilder, Mr. Jack Hung, Mr. Mike Lumbley and Mr.

GMHIDC is now looking for investment partners here in the United States and around the world that see the advantages of operating in the Chu Lai OEZ. To date we have several interested parties looking to get in on the ground floor of this exciting developing market. We expect to have all five textile operations designed, secured and under development by the end of 2005. We will then be looking for other partners for future development projects that we already have on the books at this time. Additionally the opportunities here in Vietnam are many the Vietnamese government is working very hard to reform their policies and create a welcoming business climate for outside investors." Mr. Hilder CEO of GMHIDC said.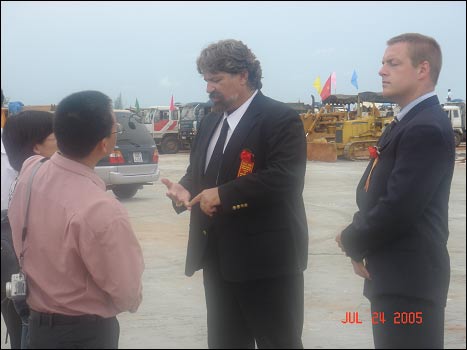 Here Mr. Hilder answers questions form local and world press about the Chu Lai OEZ and the future of international investment in Vietnam